EVENTS
Occupy the State House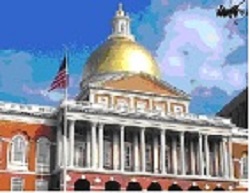 The US is largely a nation of migrants. Migration has been the norm throughout our continent and world for centuries. Millions of working class migrants and refugees have come here fleeing war, violence, and economic devastation. Often, this has been precipitated by policies originating in Washington. Today that same government has launched a generalized assault on our lives, rights, and living conditions. The leading edge of this assault is the criminalization of and attacks upon migrants. As decent, hardworking people are being detained and imprisoned, the Trump regime seeks to set a precedent for the surveillance, oppression, and criminalization of us all.

As working people and youth, we will not stand for this! We must unite in defense of our sisters and brothers who are undocumented. We are calling on all those who stand up for justice to join us in a weekly vigil in the State House. We are organizing a weekly vigil in the State House to make the following demands heard:

1.) That state, local, and campus police be banned from immigration enforcement activities
2.) No detentions at the request of I.C.E after a state court has ordered a person's release
3.) That all immigration detainees be given full due process rights
4.) That state support for a Muslim registry be prohibited
5.) That agreements with DHS deputizing local officers as immigration agents be banned

We are also organizing a longer term campaign demanding:

1) Immediate and permanent legal residence for all migrants who live here
2) Immediate access to driver's licenses for all Massachusetts residents, regardless of immigration status

We believe these demands to be reasonable, realistic and just. We call upon Governor Baker and the Massachusetts state legislature to make Massachusetts a sanctuary state. Join us in demanding justice for those of us who are in peril of losing their jobs, their homes, and their families. When we are united, anything is possible!