DOCUMENTS 
May Day 2023 - Boston Common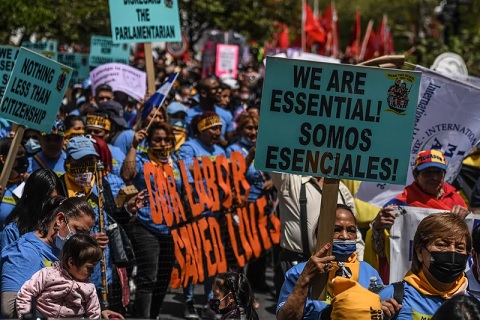 Current cosponsors for Downtown Boston event:
Green Rainbow Party of Massachusetts
Cambridge City Growers
New Democracy Coalition
United American Indians of New England
Boston May Day Coalition
Jewish Voice for Peace
Black Lives Matter Rhode Island
Workers World Party - Boston
Refuse Fascism
North American Indian Center of Boston
Community Church of Boston
FMLN - Massachusetts
Encuentro 5
Tecschange
African People's Socialist Party
Anarchist Black Cross - Boston
Community Advocates for Justice and Equality
COS New England
DSA Socialist Feminism Working Group
Little Liberty
Progressive Labor Party
Revolutionary Blackout Network
Natick Black Lives Matter
Boston Independent Socialist Group
Red Strike Project
International Marxist Tendency
Communities Responding to Extreme Weather
Inspiring Today's Youth
Boston South Asian Coalition
Julian Assange Defense - Boston
Boston Teachers Union

We are also standing in solidarity with our comrades and colleagues in East Boston and Chelsea. For more information about their event, which begins at 3:30pm in East Boston, please visit their page: https://fb.me/e/2KdideEBD

We can celebrate many thousands around the country who have joined unions including at Starbucks here in Boston. Mobilizations against police murder and brutality have occurred. Recently, we saw hundreds of supporters of trans rights stand up and mobilize in Boston against the ultra-rightist campaign by state governments to demonize and criminalize trans folks. Folks are taking to the streets for climate justice.

However, we have a long way to go to achieve liberation from the wars, exploitation, and oppression we face. Over the past year, we have seen a federal government assault on rail workers imposing unsafe working conditions in a contract with no paid sick leave. The US Supreme Court and State governments are demolishing reproductive rights. Millions of undocumented workers and youth seek legal permanent resident status (green cards). The war economy is rapidly expanding at the expense of our human needs. Environmental devastation continues with ever increasing instances of extreme weather. Devastating cuts to the social safety net are scheduled for the end of the "COVID emergency declaration". We will be increasingly asked to make sacrifices while the wealthy increase their profits. Join in the resistance!