DOCUMENTS 
Chile: Report from the Base
With the new regime, what has been accomplished? What's next?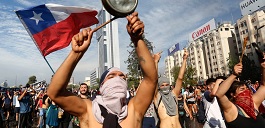 Please welcome Sergio Reyes who will be reporting from Chile on developments there. From the revolt in 2019 to the new regime, changes have taken place, but what has been accomplished? Sergio was an organizer and activist in Boston for over 30 years. He is now living in Chile. He will present his impressions of the process developing in Chile over the past few years and discuss the prospects for advances and struggle in the future.
Please join the Zoom discussion:
https://us02web.zoom.us/j/85907977991?pwd=YnBPbFFwcStueEJtcEFUVnN6ais0UT09

Sergio was born in 1954 to a working-class family in one of the southernmost cities in Chile, Punta Arenas. In high school he became a student organizer and by the time of the military-civilian coup de etat led by General Augusto Pinochet in 1973, he was beginning his first year in the university. He was imprisoned in various concentration camps and sentenced by a military tribunal to 5 years in prison. After 3 years, he was exiled to the United States in 1976.

Sergio soon connected with people from the left, starting with those who worked as volunteers at the Red Bookstore in Cambridge. Also, in Cambridge he joined in the work of the Central America Solidarity Association, which functioned in the basement of the Old Cambridge Baptist Church. Together with other Chilean exiles he formed the Committee for the Unity of the Revolutionary Left in Chile. Later, he helped found Latinas and Latinos for Social Change, which worked prominently in support of the anticolonial struggle to get rid of the U.S. naval base in Vieques, Puerto Rico.

Eventually, he participated in founding the Boston May Day Coalition (BMDC), which called for and helped organize the General Strike of May 1, 2006, and promoted a working-class approach in solidarity with migrant workers. While at the BMDC, he became instrumental in forming the Sacco and Vanzetti Commemoration Society, joining young anarchists in that effort. He also contributed revolutionary music from Latin America to any organization or gathering that requested his performance.