BMDC on Facebook
Get Facebook updates on what the Boston May Day Committee is doing. Go ahead like us!



---
Secure Communities Undermines All of Us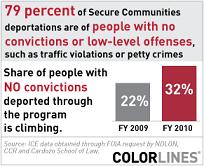 The decision, by President Obama's Department of Homeland Security (DHS), to impose the Secure Communities Program on the State of Massachusetts, seriously undermines reasonable sovereignty claims of the states, encourages the practice racial profiling, and erodes individual rights to due process. Of course, it targets immigrants and specifically Latinos. But this is no aberration. Secure communities is cut from the same cloth as the National Defense Authorization Act providing for the indefinite worldwide detention of individuals, or the executive branch assertion that it has the right to kill anyone it deems to be a threat (regardless of their citizenship and without benefit of any judicial process), or the attempt via SOPA/PIPA and now CISPA to make either federal agencies or powerful companies the arbiters of internet content and property claims.

[ + ]
---
On May Day 2014 let's continue to demand that the U.S. sign the UN Convention on Migrant Workers Rights
On July 1, 2003, the Convention on the Protection of the Rights of All Migrant Workers and their Families entered into force. There is abundant evidence that worldwide documented and undocumented migrant workers – including a growing number of women – are providing key contributions in such sectors as agriculture, construction, high tech and (domestic) services. They are, however, increasingly subject to racism, discrimination, abuse and violent attacks. We, welcome the adoption of the Convention. The USA has not ratified nor signed on.

To print a petition sheet click here
For brief summary of the convention click here
Resúmen de la convención en español pinche aqui
---
Democrats in the Massachusetts Senate who voted racist and anti-immigrant
The great majority of Senators who are members of the Democratic Party voted in favor of anti-immigrant amendments that would deprive undocumented immigrant of medical and social services. The amendement also would allow for the creation of a free 800 number to report on suspected undocumented immigrants. The Massachusetts Senate is composed of 35 Democrats and 5 Republicans. Only five decent democrats had the guts to vote against the anti-immigrant amendment. To see the roll call check on the link below.
[ + ]
---
2016: MAY 1st DAY OF ACTIONS PLANNED FOR EAST BOSTON, CHELSEA, AND EVERETT BEGINNING AT 2:30 PM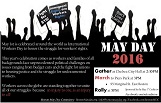 WHAT: May Day Commemorations and Celebrations
WHEN: Sunday, May 1, 2016
WHERE: Gather at Chelsea City Hall at 2:30 PM
(Feeder marches from Everett to Chelsea and on to East Boston at 3:PM)
Major Rally: Piers Park, 95 Marginal St., East Boston at 5PM.

CONTACT: Boston May Day Committee at (617) 922-5744 or (857) 334-5084 and email to info@bostonmayday.org.

Download the flyer
Download media advisory


[ + ]
---
Let's stop making migration a crime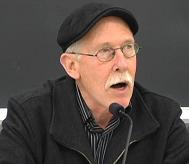 We need an immigration policy based on human, civil and labor rights, which looks at the reasons why people come to the U.S., and how we can end the criminalization of their status and work. While proposals from Congress and the administration have started the debate over the need for change in our immigration policy, they are not only too limited and ignore the global nature of migration, but they will actually make the problem of criminalization much worse. We need a better alternative.

This alternative should start by looking at the roots of migration - the reasons why people come to the U.S. in the first place. Movement and migration is a human right. But we live in a world in which a lot of migration isn't voluntary, but is forced by poverty and so-called economic reforms.
[ + ]
---
Let Justice and Peace Occupy the Earth!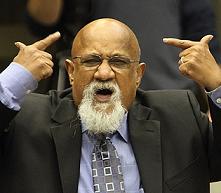 Message by Chuck Turner for the Boston May Day 2012 event

Brothers and Sisters.

Unfortunately, I can not be with you today. I am in the 13th month of a 36 month sentence at Hazelton Federal Penitentiary based on a scheme by former U.S. Attorney Michael Sullivan to advance his career. Sullivan is now managing partner of the Boston office of the Ashcroft Group, a consulting firm owned by John Ashcroft former US Attorney General under George Bush but that is a conversation for another day.

I appreciate and welcome the opportunity on May Day 2012 to share with you my thoughts.
[ + ]
---
Cambridge City Council Passes Resolution Urging the U.S. Government to Sign the U.N. Convention on Migrants Rights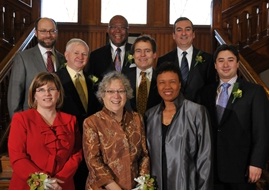 The Cambridge City Council passed a resolution, presented by Councilor Marjorie Decker, on its session of December 5, declaring December 18, 2011 and annually thereafter, as International Migrants Day in Cambridge. It also urges the U.S. Government to sign and ratify the 1990 International Convention on the Protection of the Rights of All Migrant Workers and Their Families and to similarly recognize December 18, 2011, as International Migrants Day. The Resolution also resolved to recognize the many contributions of immigrants and refugees to society as a whole.

Pictured from bottom l-r, Councilors Decker, Vice-Mayor Davis, Simmons, Toomey, Kelley, Cheung, Seidel, Reeves, Mayor Maher
[ + ]
---
Boston City Council Declares December 18 as International Migrants Day in the City of Boston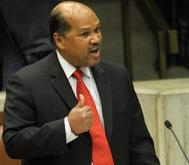 Council Charles C. Yancey offered the resolution that urged "the United States Government to sign and ratify the 1990 International Convention for the Protection of the Rights of Migrant Workers and Members of Their Families and to similarly recognize December 18, 2011, and annually thereafter, as international Migrants Day".

To see a picture of the original signed resolution click here.
[ + ]
---
Lessons from the struggle to defeat racist anti-immigrant amendments to the Massachusetts State Budget for FY 2012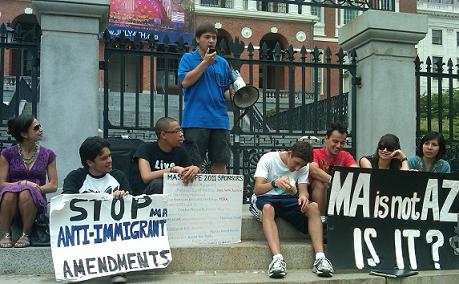 3-Jul-2011.- This year again the Massachusetts Budget was the field that anti-immigrant politicians chose to include their nasty venom. We had a similar experience last year that was met with fierce resistance by immigrant rights advocates lead by the young people of the Student Immigrant Movement (SIM). Just like last year most of the racist, anti-immigrants amendments were either withdrawn or rejected but some elements remained. Therefore the victories were significant but partial.

The strategies used in this grassroots campaign however are very important for the movement nationwide.
[ + ]
---


To sign the petition, click here.

---
Visits: 257694