Your support counts!
For dignity and justice
for migrant workers
and their families...

Migrants rights are human rights!
---
BMDC on Facebook
Get Facebook updates on what the Boston May Day Coalition is doing. Go ahead like us!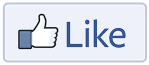 ---
Occupy the State House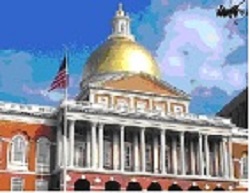 Vigil for Migrants' Rights
Friday, April 28, 2017 4- 5:45 PM
Massachusetts Statehouse
https://www.facebook.com/OccupyTheStateHouse/

We are calling on all those who stand up for justice to join us in a weekly vigil in the State House. We are organizing a weekly vigil in the State House to make the following demands heard:

1.) That state, local, and campus police be banned from immigration enforcement activities
2.) No detentions at the request of I.C.E after a state court has ordered a person's release
3.) That all immigration detainees be given full due process rights
4.) That state support for a Muslim registry be prohibited
5.) That agreements with DHS deputizing local officers as immigration agents be banned


[ + ]
---
Boston Mobilizes for International Women's Day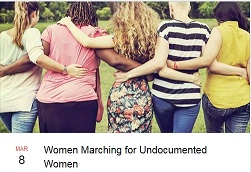 On Wednesday, March 8th, Boston will come alive with actions across the city in celebration of International Women's Day. This year's IWD comes at a time when reactionary ideology is prevalent and its adherents are in power, making women's struggles against patriarchal oppression all the more acute. Boston may Day Coalition endorses these actions and stands together with the working women of the world.

[ + ]
---
Secure Communities Undermines All of Us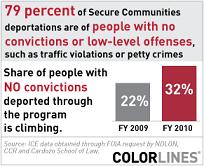 The decision, by President Obama's Department of Homeland Security (DHS), to impose the Secure Communities Program on the State of Massachusetts in 2012, seriously undermines reasonable sovereignty claims of the states, encourages the practice racial profiling, and erodes individual rights to due process. Of course, it targets immigrants and specifically Latinos. But this is no aberration. Secure communities is cut from the same cloth as the National Defense Authorization Act providing for the indefinite worldwide detention of individuals, or the executive branch assertion that it has the right to kill anyone it deems to be a threat (regardless of their citizenship and without benefit of any judicial process), or the attempt via SOPA/PIPA and now CISPA to make either federal agencies or powerful companies the arbiters of internet content and property claims.

[ + ]
---
On May Day 2014 let's continue to demand that the U.S. sign the UN Convention on Migrant Workers Rights
On July 1, 2003, the Convention on the Protection of the Rights of All Migrant Workers and their Families entered into force. There is abundant evidence that worldwide documented and undocumented migrant workers – including a growing number of women – are providing key contributions in such sectors as agriculture, construction, high tech and (domestic) services. They are, however, increasingly subject to racism, discrimination, abuse and violent attacks. We, welcome the adoption of the Convention. The USA has not ratified nor signed on.

To print a petition sheet click here
For brief summary of the convention click here
Resúmen de la convención en español pinche aqui
---
Democrats in the Massachusetts Senate who voted racist and anti-immigrant
The great majority of Senators who are members of the Democratic Party voted in favor of anti-immigrant amendments that would deprive undocumented immigrant of medical and social services. The amendement also would allow for the creation of a free 800 number to report on suspected undocumented immigrants. The Massachusetts Senate is composed of 35 Democrats and 5 Republicans. Only five decent democrats had the guts to vote against the anti-immigrant amendment. To see the roll call check on the link below.
[ + ]
---
May Day 2018 - International Workers' Day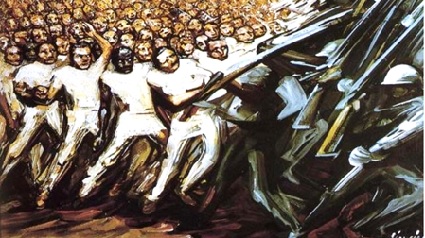 Mobilize Tuesday, May 1
Rally on the Boston Common, Parkman Bandstand @ 5:00 PM
Followed by a 6:30 March to Copley Square

Resist Deportations!
Immediate Permanent Legal Residence for All Undocumented Migrants!
Permanent Residence for All DACA and TPS Recipients!
Driver's Licenses for All Undocumented MA Residents!
$15 Minimum Wage!
Stop Racist Attacks!
End Mass Incarceration!
Equal Pay for Equal Work!
Full Union Rights for All Workers!
Free Day Care for All Workers!
Full Labor Rights for So Called "Independent Contractors"!
End Military Intervention, Bring All US Troops Home Now!
Defend Transgender Rights!
Unions for All Workers! Organize the Unorganized!
Workers' Control in the Workplace!
Jobs, Pensions, Healthcare, and Education for All Workers and Youth!

The government in Washington and the billionaire class are leading a generalized assault on our lives, rights, and living conditions. The wealth gap today continues to grow. From the racist attacks on Muslims, Migrants, and African-Americans to attacks on healthcare, women, and LGBT folks, and from attacks on our environment and education, to perpetual wars, working people are under fire.

The leading edge of this assault today is the stepped up attacks against migrants. Deportations are accelerating. As US wars have created massive debt and refugees internationally, the consequences of corporate greed at home have created refugees within our own borders. The war on the poor continues. Student debt stands at over a trillion dollars! The recent tax cuts for the rich will be at the expense of our living standards. They will be going after affordable housing, Medicare, Medicaid, and Social Security. Millions of youth and decent hard working people are under attack!

Claiming that human caused climate change is a "hoax", the Trump Administration pulled out of the Paris Climate Accord. The falsehood of this claim was yet again demonstrated by the horrendous hurricanes that devastated the Gulf Coast and Caribbean. Enough is enough! An injury to one is an injury to all! Let us stand together and build a united, fighting movement. Please join us on May Day where our program will address: Migration, Labor Rights, Systemic Oppression, Threats to Human Survival, and the role of capitalism, US imperialism, and war in the current crisis.

Cosponsors:
Anarchist Black Cross
ANSWER - Boston
Bay State Red Sentinels
#BecomeUngovernable
Bishop Filipe C. Teixeira- Immigration Pastoral Center, Brockton
Boston Education Justice Alliance
Boston Labor Solidarity Committee
Boston May Day Coalition
Boston Socialist Alternative
Boston Socialist Party
Boston Teachers Union
Community Church of Boston
Cosecha Boston
Cosecha Merrimack Valley
CPUSA Boston
Emmanuel Church in the City of Boston
Food for Activists
Greater Boston Chapter: Green-Rainbow Party
Party for Socialism and Liberation - Boston
Refuse Fascism, Metro Boston
UAW Local 1596
Veterans For Peace - Boston, Smedley D. Butler Brigade
Watertown Citizens for Peace, Justice and the Environment

Other May 1st actions:
Everett - Main Rally 5:30pm Glendale Park
https://www.facebook.com/m1coalition/
E. Boston - gather and march 4:00pm Liberty Plaza
Chelsea - gather and march 4:30pm City Hall
Worcester - 4:45- 6:30 PM, 145 Front Street
https://www.facebook.com/events/168239757215470/
[ + ]
---
Resist Deportations! Save TPS!
Mobilize Saturday, December 2
Save TPS!
Defend DACA!
Resist Deportations!
No Wall! No border militarization!
No Muslim ban!
Permanent Legal Residence for Migrants!
Jail Joe Arpaio -- Not Migrants!
Resist Fascism!

Rally: 12:00 PM, steps across from the Massachusetts Statehouse
March to the JFK Federal Building


[ + ]
---
Fascism, what it is and how to fight it
Thursday, November 9 at 6:30 PM - 9:30 PM EST
9A Hamilton Place, Boston, Massachusetts 02108

All opposed to fascism are invited to attend a round table discussion with the Boston May Day Coalition. We want to share ideas on fascism and building a mass movement to oppose it, for the good of all workers. Please no video, audio or photography during this meeting.
[ + ]
---
Oct 19th: Poor People's Campaign

BMDC encourages all to attend the Poor People's Campaign mass meeting on Oct 19th at 7pm to 9:30pm. The free-of-charge tickets sold out, but we plan to go anyway. We hope to see you all there.

When: Oct 19th 2017, 7:00 - 9:30PM
Where: Trinity Church, 206 Clarendon St, Boston MA 02116
EventBrite link



The call for a Poor People's Campaign: A National Call for Moral Revival has emerged from more than a decade of work by grassroots community and religious leaders, organizations and movements fighting to end systemic racism, poverty, the war economy, environmental destruction & related injustices and to build a just, sustainable and participatory society. We draw on the history, vision and unfinished work of the 1968 Poor People's Campaign.


El Llamado para la Campaña de las personas pobres: Un Llamado al Rescate de la Moral ha emergido de más de una década de trabajo de las bases comunitarias y de líderes religiosos, organizaciones y movimientos luchando para acabar con el racismo sistémico, la pobreza, el militarismo, la destrucción del medioambiente y las injusticias relacionadas a ellos, y para construir una sociedad justa, sostenible y participativa. Nos inspiramos en la historia, la visión y el trabajo incompleto de la Campaña de la Personas Pobres de 1968.
---
Resist Deportations! Defend DACA! Mobilize September 16!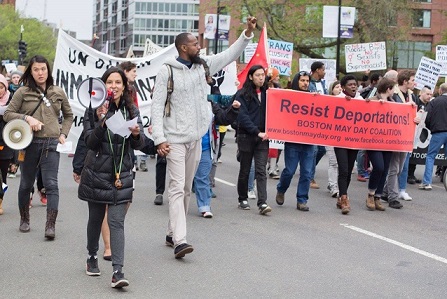 Defend DACA! Extend TPS! Jail Joe Arpaio! No Ban! No Wall! Defend Transgender Rights! End Racism! Black Lives Matter! ¡Respeto a los pueblos indígenas! Permanent residence for all 11 million undocumented migrants!
[ + ]
---
Resist Deportations!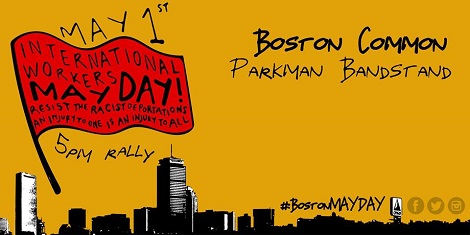 Resist Deportations!
The government in Washington has launched a generalized assault on our lives, rights and living conditions. From the racist attacks on Muslims, Migrants, and African-Americans to attacks on healthcare, women, and LGBT folks, to attacks on our environment and education, to perpetual wars, working people are under fire. The leading edge of this assault is the criminalization and attacks on Migrants. Enough is enough! An injury to one is an injury to all. We must take our fight to the centers of power. Mobilize on May Day, International Workers Day!

Monday, May 1, 5:00 PM
Rally: Boston Common, Parkman Bandstand
March to Copley Square
Facebook.com/bostonmdc
May Day Mobilization Flier"

We demand:
1. Immediate and permanent legal residence and a pathway to citizenship for ALL migrants who live here. Driver's licenses for ALL undocumented MA residents!
2. Stop arrests, detentions, and deportations of undocumented migrants. End the raids and release ALL detainees being held on immigration charges NOW!
3. NO to border walls, militarization of the border, and criminalization of migrants! That Massachusetts become a Sanctuary State. We say NO to laws that criminalize undocumented workers.
4. Equal rights for all workers NOW! Equal pay and working conditions for foreign-born and native-born workers. NO firings based on immigration status. We demand jobs for all at a livable wage as well as public housing, health care, childcare, education, and other vital social services!
5. We want May 1, International Workers Day, recognized as a National Holiday.

Endorsers:
Boston School Bus Drivers Union
BTU Unafraid Educators
Chelsea Collab/May 1st
Communist Party - Boston
Democratic Socialists of America - Boston
Encuentro 5
Green Rainbow Party
International Socialist Organization
Labor Soldiarity Committee
Party of Socialism and Liberation
Socialist Alternative
Socialist Party of Boston
Stonewall Warriors
Unite Here Local 26
Veterans for Peace
Women's Fightback Network
Workers World Party Boston
[ + ]
---
Let's stop making migration a crime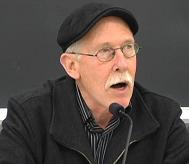 We need an immigration policy based on human, civil and labor rights, which looks at the reasons why people come to the U.S., and how we can end the criminalization of their status and work. While proposals from Congress and the administration have started the debate over the need for change in our immigration policy, they are not only too limited and ignore the global nature of migration, but they will actually make the problem of criminalization much worse. We need a better alternative.

This alternative should start by looking at the roots of migration - the reasons why people come to the U.S. in the first place. Movement and migration is a human right. But we live in a world in which a lot of migration isn't voluntary, but is forced by poverty and so-called economic reforms.
[ + ]
---
Let Justice and Peace Occupy the Earth!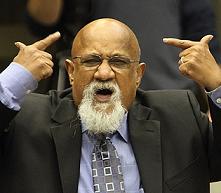 Message by Chuck Turner for the Boston May Day 2012 event

Brothers and Sisters.

Unfortunately, I can not be with you today. I am in the 13th month of a 36 month sentence at Hazelton Federal Penitentiary based on a scheme by former U.S. Attorney Michael Sullivan to advance his career. Sullivan is now managing partner of the Boston office of the Ashcroft Group, a consulting firm owned by John Ashcroft former US Attorney General under George Bush but that is a conversation for another day.

I appreciate and welcome the opportunity on May Day 2012 to share with you my thoughts.
[ + ]
---
Cambridge City Council Passes Resolution Urging the U.S. Government to Sign the U.N. Convention on Migrants Rights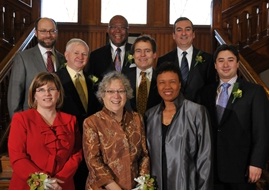 The Cambridge City Council passed a resolution, presented by Councilor Marjorie Decker, on its session of December 5, declaring December 18, 2011 and annually thereafter, as International Migrants Day in Cambridge. It also urges the U.S. Government to sign and ratify the 1990 International Convention on the Protection of the Rights of All Migrant Workers and Their Families and to similarly recognize December 18, 2011, as International Migrants Day. The Resolution also resolved to recognize the many contributions of immigrants and refugees to society as a whole.

Pictured from bottom l-r, Councilors Decker, Vice-Mayor Davis, Simmons, Toomey, Kelley, Cheung, Seidel, Reeves, Mayor Maher
[ + ]
---
Boston City Council Declares December 18 as International Migrants Day in the City of Boston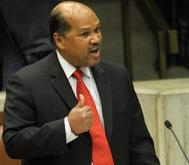 Council Charles C. Yancey offered the resolution that urged "the United States Government to sign and ratify the 1990 International Convention for the Protection of the Rights of Migrant Workers and Members of Their Families and to similarly recognize December 18, 2011, and annually thereafter, as international Migrants Day".




To see a picture of the original signed resolution click here.
[ + ]
---
Lessons from the struggle to defeat racist anti-immigrant amendments to the Massachusetts State Budget for FY 2012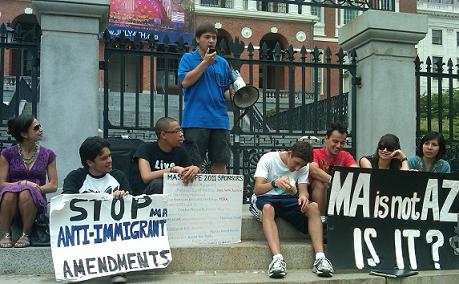 3-Jul-2011.- This year again the Massachusetts Budget was the field that anti-immigrant politicians chose to include their nasty venom. We had a similar experience last year that was met with fierce resistance by immigrant rights advocates lead by the young people of the Student Immigrant Movement (SIM). Just like last year most of the racist, anti-immigrants amendments were either withdrawn or rejected but some elements remained. Therefore the victories were significant but partial.

The strategies used in this grassroots campaign however are very important for the movement nationwide.
[ + ]
---
Visits: 356450